5 Ways to Keep Safe While Golfing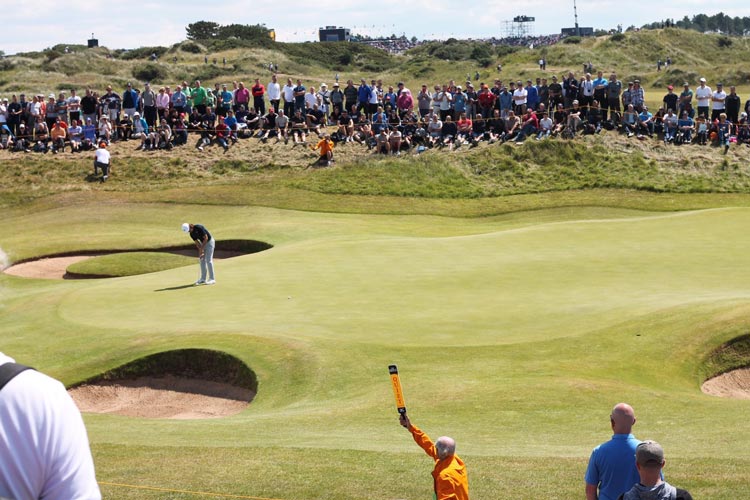 Golf is an incredibly rewarding sport that can boost confidence, lower stress, and strengthen the body.
But as with any other sport, there are a few safety guidelines that should be followed on any golf course to ensure a fun and rewarding game of golf without risk of injury.
It is the responsibility of each golfer to understand the best ways to keep safe golf practices. Here, we explain the universal safety rules of playing golf and provide some top golf safety tips for golfers of all levels of experience.
Be Aware of Your Surroundings
Taking a big swing of the golf club is one of the most fun parts of playing golf, but there are some risks involved—especially with metal clubs!
You certainly don't want to cause any head injuries, so it is very important that you stay aware of where people are before you take your swing. When you step into the tee box, it may be useful to have playing partners stand in a group away from you to give your swing a wide berth.
The same rule applies when it comes to practice swings. Stay cautious and alert to the golfers in your area and maintain a safe distance before taking a swing.
Careful distancing is even more important when younger golfers are part of the group! Make sure they understand how important it is to stand a good number of feet away from the person taking the swing, or even have them stand near the golf cart until it is their turn.
Keep Track of the Weather
As an outside sport, there is always a chance of bad weather that can even become dangerous. If you live in an area where storms are common, you should check the weather reports for any signs of lightning or heavy winds.
You should also make sure you know where golf courses have their lightning shelter in case lightning occurs without much warning. The use of metal clubs can increase the danger of lightning, so this is a very important thing to bear in mind.
Heavy rain and wind also come with their own dangers. Even light rain can make the course very slippery, increasing the chances of a bad fall.
Before starting the game, make sure no one is without proper rain gear and golf shoes, made with good grip. For the very prepared, keep some raincoats or ponchos in either the golf cart or the push cart.
Practice Social Distancing
Golf is a great sport to be able to play during the coronavirus pandemic because it is outside with plenty of space for others.
However, there are some additional safety steps that all golfers should be taking during the pandemic.
Everyone should thoroughly wash their hands before starting the game and after using golf carts or your golf bag. Also, try to maintain a distance of about six feet from anyone who is not from their household.
Some other easy things you can do are to not share golf balls with others, use only your own golf clubs, and sanitize a golf cart before and after you use it.
Many golf players find it useful if people bring hand sanitizer with them during tee time so that they can apply it to their hands at different times throughout the game. This is also helpful to have in case other players on the grass want to sanitize themselves as well.
Simple things like this can keep the whole group safe, help stop the spread of the virus, and ensure that communal areas like the clubhouse or golf cart stay hygienic.
Communicate with Others
Sometimes you cannot anticipate when other golfers cross the path of your golf ball. To ensure there are no injuries, be sure to yell 'fore!'
What's more, ducking for cover when you hear this word is one of the golden rules of golf safety.
So, whether you are yelling 'fore' or looking for a tree to hide behind when you hear it, understanding common golf lingo is key to keeping your body and others safe from a rogue golf ball.
Keep in mind that it is never acceptable to hit a ball into the group ahead of you. Not only is this rude, but also incredibly dangerous and could result in harm to a player's body!
If the group ahead is going far too slowly and ruining your enjoyment of the sport, just ask the course marshal if there is any way he can move the other group along. If this doesn't work, take a bit of a break and some calming breaths to clear your head.
Try a Golf Driving Range
A great and perfectly safe alternative to a full round of golf on the course is the driving range. The Mile Square night driving range is also the best way to be able to play a game of golf after the sun goes down.
Our driving range is always impeccably maintained and comes with super affordable golf balls fees.
Why practice on a driving range? For starters, you will be able to train up your arms for the perfect swing at any time, vastly improving muscle memory.
You'll also get the benefit of being outside without committing to an entire round on the course while learning how to use different clubs—all without the pressure of keeping up with others.
Book Your Tee Time Today
If you want to book tee times for a round of golf at our beautiful and conveniently located Orange County course, you can book online today or talk to a member of our staff by calling 714-968-4556 or 714-545-7106.
Curious about what traits make a great golfer? You can learn about this on our website or by visiting Mile Square Golf Course for an advanced and personalized golf lesson.
Booking ahead is the best way to get out on the course for a game of golf as quickly as possible. We look forward to welcoming you to Mile Square Golf Course soon!