8 Characteristics of an Effective Golf Instructor
If you love golf but haven't quite gotten the hang of the game yet, you may want to consider working with a golf instructor. Having a good coach should help you understand the game more easily and goes a long way into improving your technique.
While there are many characteristics that make an effective golf instructor, here are a few of them that you can easily evaluate:
What You Should Look For in Your Golf Instructor
1 - Experience
Before anyone can teach anything, they must be experienced with it. An effective golf instructor will not only have plenty of experience playing golf, but also plenty of experience teaching beginners and students.
They will have worked with many different people who were at different skill levels and be familiar with all aspects of the game. This will ensure they are prepared to handle the challenges of teaching students with various levels of understanding of the sport.
2 - Patience
It is important for a golf instructor to have plenty of patience. While some students may catch on quickly or may already have some experience with the game, most will come to them looking to learn the basics. Many will not know what to do at first.
An effective instructor who offers private golf lessons should be able to take it slow, break down the process and technique of the game, and be prepared to work with each student at their own pace until they have a better understanding of the game and are ready to play it more confidently.
3 - Communication
Communication skills are important for golf lessons in Orange County because the instructor needs to be able to explain to the student what is expected of them or what they are doing wrong. This helps them gain a better understanding of the rules of the game as well as of their own technique.
A golf instructor must be able to clearly communicate with the student and be able to do so in a helpful and friendly way. They should be able to give positive criticism and motivate the golfer to continue to improve.
4 - Leadership
Good leaders make good instructors. The instructor will need to guide and lead the student into becoming a better player. That means the instructor should be able to see the student's full potential and develop a plan to help them achieve it.
Further, a golf instructor should have a touch of charisma or authoritativeness. They should come across as someone trustworthy, but also approachable. This makes it more likely that the student will follow their instructions and improve under their tutelage.
5 - Organization
Adult golf lessons are often held one right after another, so it is important for an instructor to be organized. An organized instructor will be able to keep track of the skill levels of each player and stay on top of payments, schedules, and other important records. As a result, lessons under an organized instructor will be more personalized, efficient, and successful.
6 - Consistency
Instructors need to be consistent. When something is taught, it should be explained and the student should be able to repeatedly do it that way. This will ensure the players won't develop bad habits or an incorrect technique, even when they are left to practice on their own.
It also makes it easier for them to understand what they need to adjust about their technique in different situations, and correct any mistakes they may make.
7 - Punctual
When offering lessons at an Orange County golf course it's extremely important for the instructor to be on time. Most students want to spend as much time learning as possible and since tee times can be tight, it's respectful to the student to be on time.
The instructor should also make sure they are spending the full amount of time with the student and not taking too many breaks, arriving late, or leaving early. Not only does this deprive them of learning time, it also makes it so they are getting the service that they are paying for.
8 - Professional
An effective golf instructor will always be mature, diplomatic, and kind. There may be times when students get frustrated—with their game, the people they play with, or even their lives outside the golf course. It is important for their instructor not to meet fire with fire, but to provide stability and defuse tension instead.
This will create a safe environment for students and help them build up their confidence. It will also ensure that they don't quit or give up simply because their instructor intimidates them. A professional demeanor will reward you with a good reputation as a trustworthy and effective golf instructor.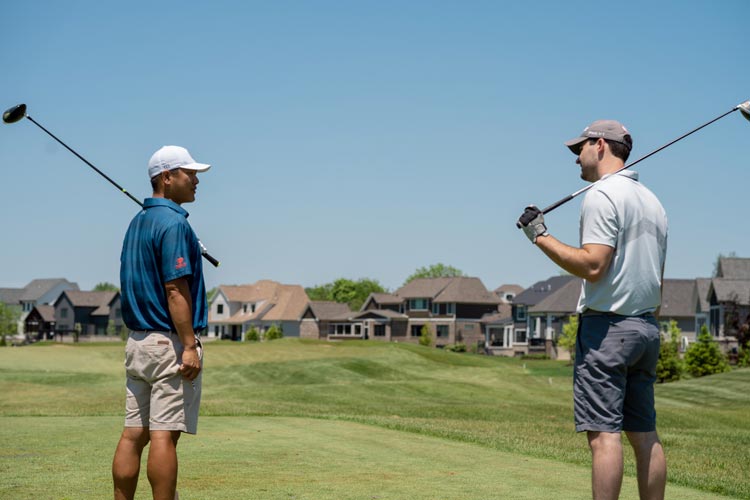 Schedule Your Golf Lessons Today
Choosing to get golf lessons from a qualified instructor is the first step in becoming a better golfer. An instructor who inspires love for the game and motivates you to improve can help you become a better player and to encourage your passion for this sport.
If you are looking for the perfect place to get golf lessons, be sure to consider Mile Square Golf Course. We have plenty of space, many tee times available, a driving range and more. As a student, you get to learn on a challenging but fun course and you will always have a place to have your lessons.
To learn more about our courses and how you can arrange to receive golf lessons, call Mile Square Golf Course today!