Close Your Next Business Deal Over a Round of Golf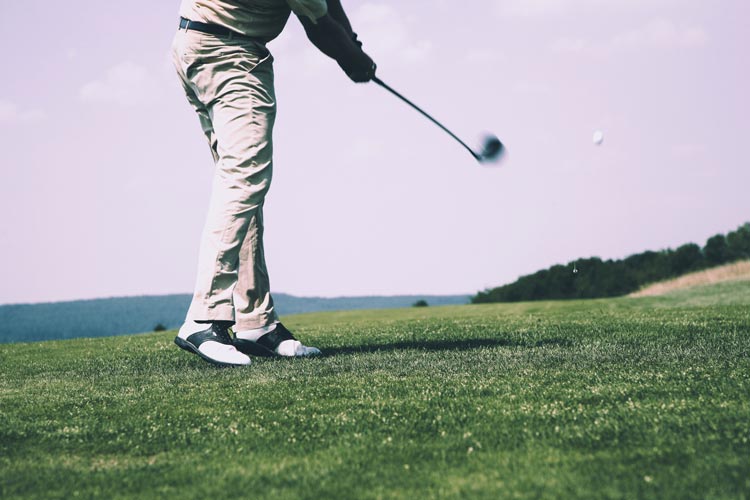 ---
There is a reason why so many business deals are discussed, polished, and finalized over a good game of golf. Whether you're aiming for an account sign or looking to score a new partnership, conducting business in a relaxed setting can put everyone at ease and relieve the pressure and stress that normally accompany a business discussion.
Compared to meeting rooms and stuffy lunches, heading to the golf course for a leisurely game can help get clients on board quicker by growing the foundation of strong business relationships.
To learn how you can improve and close your business deals by playing golf with colleagues and potential business partners, keep reading. We have uncovered the psychology of why a business deal over golf is a winning idea and have compiled the best tips and tricks to use the next time you play golf.
Have a Great Business Meeting on the Green
Golf continues to be a prominent place for business meetings because it can be casual, engaging, and encourage easy discussions without sacrificing privacy. A day spent playing golf facilitates the kinds of conversations that can fuel new business partnerships and successes.
How does this work? Simple: through a combination of atmosphere, professionalism, and respect.
A lot of businessmen and women find it easy to get prospective business partners and colleagues at a golf course instead of in a boardroom.
This is because playing golf allows for a great first impression, one that shows both your professional abilities alongside your personality, sense of humor, and character.
By arriving on time or early, you will demonstrate your professionalism and respect for your partner's time.
Before you even begin to play golf, try to establish yourself as confident and a good conversationalist. For new introductions, a first impression like this will not only put everyone at ease, but it will also be lasting and encourage a meaningful business relationship.
Don't feel pressured to bring up business topics like an account sign or a deal right off the get-go.
Aside from helping land business deals, being out on the green can also have an amazing effect on your mental health. This slower-paced outdoor sport has been shown to alleviate signs of anxiety, depression, and stress.
By spending time sharpening up on your game in the days or weeks before your business meeting, you might find that you are able to present your thoughts with less anxiety and more confidence.
Your meeting will also be improved based on how you treat the game itself. When you play golf during a business meeting, no importance should be placed on being a perfect golfer or winning the round.
At the end of the day, remember to have fun and be honest with your skill level and experience playing golf. As long as you are able to keep the game moving forward and don't cause delays, no one will have a problem playing golf with a relative newbie to the sport.
Professional Tips
While you are striking your deal on the golf course, there are plenty of things you can do to make an even better impression and to network smarter.
Check out these 8 top tips:
Show up alone: most courses will group solo golfers into small groups of four. Not only will you have fun on the green, but you may be able to network naturally and without putting pressure on yourself or others.
Don't rush: let your client or guest choose the pace to play at. It is better to have a slow-paced game of golf than to make anyone feel hurried or worried about their pace and skill level. This might even give you more time to get to know your fellow golfer.
Remember golf etiquette: just because there is a business aspect to your meeting doesn't mean that common etiquette and courtesy can be forgotten.
Avoid cheating: this is one of the biggest mistakes you could make on the golf course. You want to send the message that you would be a responsible and honest partner in business.
Be confident, not apologetic: new to golf? You might feel embarrassed if your swings lack precision or strength, but all golfers know that it just takes a bit of time and practice to improve. Instead of making constant excuses for your golf game, just let the other golfers in the group know that you are new to the game and do your best to keep up.
Schedule smartly: try to make time for lunch or a few drinks after the round of golf. This will allow for more time in a relaxed setting to get to know each other and the details of the business deal.
Stay on your best behavior: it can be easy to forget that you are also conducting business while you play golf. Remember to be polite to golf club staff and stay calm and light-hearted about the game.
Be careful with the alcohol: while it can be fun to get a few drinks after you play golf, try to stick to a limited number of drinks. You always want to remain in control of what you say and how you act, especially in front of business colleagues and potential partners.
Choosing the Right Golf Course for Business Deals
Not all golf courses are created equally. If you are the one suggesting a location, be sure to choose a golf course that you will be proud of and that facilitates a leisurely game. Your business deal is more likely to be made on a pristine, perfectly manicured golf course, such as those that are found at our golf courses.
The golf course you choose should be conveniently located for all parties and offer accommodating facilities and a good reputation for customer experience. This will send the right message to your client or colleague and allow everyone to enjoy the day.
Our golf course and club is designed to be challenging and enjoyable for all skill levels, which means any golfer will love his time at any of our courses.
It is incredibly easy to reserve a tee time and enjoy the facilities at our clubhouse, so call us at Mile Square Golf Course today.