Club Chow: Recommended Food During a Golf Game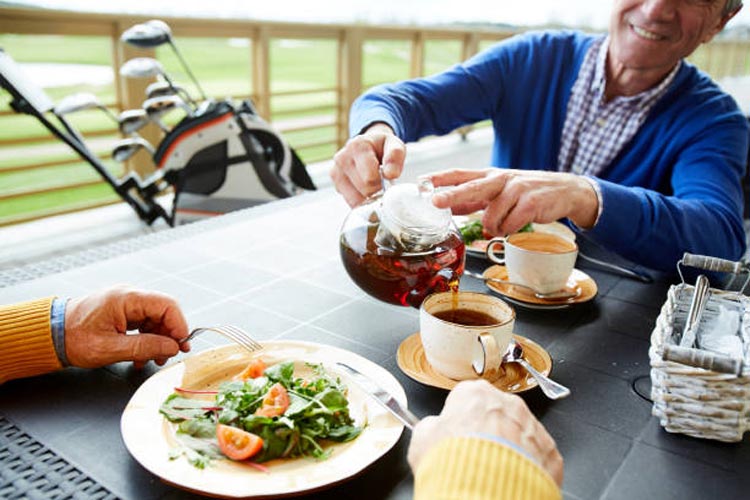 Looking to take your next golf game to new heights? Book a tee time at this Fountain Valley golf course and you'll end up feeling like a pro—one amazing shot after the other.
As one of the premier public golf courses in Orange County, Mile Square Golf Course doesn't disappoint when it comes to innovative, top-notch courses for players of all levels.
Located in Fountain Valley, Mile Square Golf Course features two challenging 18 hole courses. That means you'll have to endure up to four hours or more of a physically and mentally draining ordeal. If you don't snack the right way, you won't be able to finish a great round.
What To Eat During The Game in Fountain Valley Golf Course
Golf can be very tough—not only will you have to play strategically, but you'll also have to develop good eating habits to perk up your game. You wouldn't want to be overwhelmed by fatigue and lose your focus while at the Fountain Valley golf course.
To maintain their energy, golfers must stay hydrated during tee times and snack every four or five holes. Golfers need to consume the right nutrients that boost their performance, not slow them down. The Fountain Valley golf club offers various treats but it's also good to pack nutritious food into your bag so you can snack frequently on the golf course.
Whether walking or riding a cart on the golf course, a golfer must fuel well to keep going with high energy levels. A good quality and lean protein source combined with slow-release, low GI carbohydrates help sustain a great performance and enable the golfer to hit the ball further.
Generally, foods that are rich in essential minerals, nutrients, and vitamins will help golfers improve their overall play and mental focus and avoid the risks of going over par or flubbing on a swing.
Here are some top choices and tips to help you eat right and perform at your best on the Fountain Valley golf course.
Beef Jerky
This low-fat, high-protein snack is a favorite among amateur and professional golf enthusiasts alike. Great for eating on the go, jerky comes in a variety of types depending on the player's specific preferences.
The natural, tasty ones are ideal because they cut down on nitrites, sodium, and other unhealthy stuff.
Fresh Fruits
Nothing like those bananas or apples to give you that natural energy push on the golf course. Fresh fruits are always great healthy options because they help you maintain the right amount of energy, carbs, and vitamins to stay active.
Keep in mind though that fresh fruits work well as supplements to any golfer's snack menu, however, too much consumption will lead to excessive sugar that may cause a nasty crash.
Trail Mix
For those who wish to improve the pace of their play while staying healthy on the course, trail mix is the perfect golf snack. You can choose from different trail mix brands but see to it that you go with an organic snack to avoid any preservatives.
Why buy a prepackaged snack when you can have fun making your own convenient trail mix using nutritious ingredients? Get those mixed nuts, raisins, almonds, and some dark chocolate chips and you're all set to toss 'em in a bowl and store them into bags.
Try to achieve the right balance of carbs, sugary, protein-rich, and fibrous ingredients.
Hard-Boiled Eggs
Hard-boiled eggs may not be crowd favorites on golf courses but players won't be able to deny all the benefits that these protein and vitamin-packed bite sizes can provide.
Not only are they easy to make and perfect to eat in between shots, but they have all the healthy fats that will not slow you down.
Granola
Need that extra push during tee times or those bursts of energy to survive longer rounds on the course? This healthy cereal is the go-to, non-perishable snack that can keep you up for the game and fill you with carbohydrates from whole grains and heart-healthy fiber.
Watch out for added sugar and fats if you're getting one from the store. Explore low-fat granola recipes like vegan granola and sweet Nutella banana granola so you can make healthier options on your own.
Enjoy A Delicious Lunch and Stunning Views in Fountain Valley Golf Club
What better way to celebrate a successful game of golf than to savor well-rounded meals that allow you to refuel your body and set it up for a great recovery. Fountain Valley golf club has got you covered with satisfying choices at the absolute best prices.
Our plates are packed with the right amount of green, leafy vegetables, proteins, and carbohydrates that will no doubt replenish your body. The Fountain Valley golf club offers nothing but exquisite service and a relaxing atmosphere to help you wind down after an intense golf session.
While you're at it, why not make the most out of your stay by taking a tour around one of the great golf vacation destinations in Orange County? Known for its beautifully manicured putting greens and state-of-the-art facilities, Mile Square Golf Course's driving range is the place to be for a relaxing getaway or a quick night drive.
Find the Best Golf Courses to Play and Enjoy a Meal
Golfers who wish to explore this esteemed course can do so on our driving range until 10:00 pm. From clean, fresh air to top-notch equipment, accessible location, elegant country club facilities, and impeccable service—you'll be glad to discover why this Fountain Valley golf course in Orange, County California is among the most astonishing of them all.
Ready for your next great round of golf? Don't hesitate to reach out to learn more about our special rate tee times, our full range of golf lessons for players of all skill levels, hosting an event, or participating in our tournaments.
We are always excited to show locals and visitors around our course in Fountain Valley. See how our full range of excellent facilities and amenities deliver nothing less than an outstanding golfing experience.
Ready to reserve your tee times at the best prices? Contact us at Miles Square Golf Course in Fountain Valley today.